Allegra (fexofenadine) is intended for the treatment of hay fever symptoms. The main symptoms of this condition include itchy or watery eyes, sneezing and runny nose, although other signs are also possible. This is an antihistamine that blocks the effects of a specific hormone in the body responsible for the symptoms of an allergy.
Allegra comes in the form of liquid suspension and as a tablet for oral administration. You are supposed to take it either once or twice a day – everything depends on your dosage and for how long you will be taking this drug. Make sure you avoid taking this drug with fruit juices, especially orange or grapefruit juice. It's best to take every dosage of this medicine with some water. To avoid taking Allegra improperly make sure you follow all of the recommendations of your health care provider and take it accordingly – without missing does, taking too much or too little and increasing the frequency of taking this medication. This drug is not going to treat your hives and allergies, but it can provide relief of the symptoms and help you to keep them under control – which can be just as important. Make sure you do not wait too long between two doses, as your condition may get worse very quickly. If you have been prescribed the liquid form – make sure you shake it well for the medication to mix evenly. This way you will make your treatment a lot more efficient.
If you have a history of kidney disease or are pregnant at the moment you may not be able t take Allegra, or your condition will be monitored more carefully for side effects. This drug is FDA pregnancy category C. This category is used for medicines that may harm to an unborn babies, although there is no consistent data on that. Allegra may harm the health of an unborn baby, and it is known that it can pass into breast milk, but the data is insufficient to make any definite conclusions. The use of Allegra in pregnant and breastfeeding women is rarely justified, and in case this is your situation – your health care provider will most likely recommend using some other medications that are safer and just as efficient.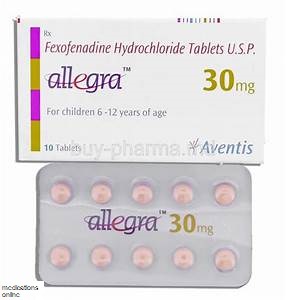 Medications Allegra can interfere with
If you are taking any other medications at the moment or are planning to start taking them in the nearest future – make sure your doctor is aware of that fact, as this may affect the dosage you are prescribed. The following drugs are supposed to be mentioned: erythromycin and ketoconazole. In general, you need to report any other prescription or over-the-counter drugs, as well as vitamins. Although they may not interact with Allegra directly – in some cases your treatment may be not as efficient as it could be if you were not combining is with anything else. Do not combine Allegra with antacids, especially the ones that contain magnesium or aluminum. Make sure you take the antacid several hours before or after you have to take Allegra.
Is an overdose of Allegra possible?
If you happened to take too much of Allegra – seek emergency medical help. The following signs may indicate you have taken too much of it: dry mouth, dizziness, or drowsiness. All the symptoms mentioned, as well as the name of the medicine you took are supposed to be reported to your local emergency center where you will be helped. Make sure you seek emergency medical help as soon as you notice the symptoms mentioned after taking too much of Allegra – do not wait for these symptoms to go away on their own.
Missing a dose of some medication does not really matter if it does not happen too often and you know exactly what you are supposed to do. The following should be remembered: if it is almost time to take another dose of Allegra – make sure you do not take the dose you missed, as you have probably remembered about it too late. If you remembered about a missed dose soon enough – you can take it and go back to the regular dosing schedule. Make sure you take this drugs at the same time every day to remember it better, or come up with your own way of memorizing the time when you have to take this medication.
Allegra side effects are usually mild and go away on their own pretty soon. The following ones are possible: headache, dizziness, diarrhea, vomiting, pain, and cough. More serious side effects are also possible and these should be reported to the doctor that prescribed Allegra as soon as possible. Serious side effects of Allegra include hives, rash, itching, difficulty breathing or swallowing, swelling of the face, and hoarseness. You do not need to report the mild side effects, as they are not going to last for too long. However, if they do last for too long, change in intensity and start to interfere with your everyday life – let your doctor know about it and see if there are any ways this problem can be solved.
Quantity
30, 60, 90 pills
Related Categories:
Anti-allergic/Asthma
Related Medications:
Ventolin