Reglan (met-oh-kloe-PRA-mide) is a medicine that increases the movements or contractions of the stomach and intestines. When given by injection, it is used to help diagnose certain problems of the stomach and/or intestines. It is also used by injection to prevent the nausea and vomiting that may occur after treatment with anticancer medicines. Another medicine may be used with Reglan to prevent side effects that may occur when Reglan is used with anticancer medicines.

When taken by mouth, Reglan is used to treat the symptoms of a certain type of stomach problem called diabetic gastroparesis. It relieves symptoms such as nausea, vomiting, continued feeling of fullness after meals, and loss of appetite. Reglan is also used, for a short time, to treat symptoms such as heartburn in patients who suffer esophageal injury from a backward flow of gastric acid into the esophagus.

Reglan may also be used for other conditions as determined by your doctor.
Medicines or medical conditions may interact with this medicine. INFORM YOUR DOCTOR OR PHARMACIST of all prescription and over-the-counter medicine that you are taking. DO NOT TAKE THIS MEDICINE if you are also taking cabergoline or pergolide. ADDITIONAL MONITORING OF YOUR DOSE OR CONDITION may be needed if you are taking serotonin reuptake blockers such as sertraline or venlafaxine; monoamine oxidase inhibitors (such as furazolidone, linezolid, moclobemide, phenelzine, procarbazine, selegiline, isocarboxazid, tranylcypromine); narcotic pain medicine; anticholinergic medicines that slow down gastrointestinal movement; certain medicines for mental disorders (such as phenothiazines or haloperidol); or insulin. DO NOT START OR STOP any medicine without doctor or pharmacist approval. Inform your doctor of any other medical conditions including asthma, Parkinson`s disease, high blood pressure, diabetes, congestive heart failure, depression, allergies, pregnancy, or if you are breast-feeding. USE OF THIS MEDICINE IS NOT RECOMMENDED if you have a history of gastrointestinal bleeding, blockage, or tear; seizures; or pheochromocytoma. Contact your doctor or pharmacist if you have any questions or concerns about using this medicine.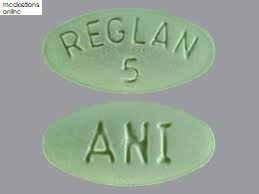 This medicine will add to the effects of alcohol and other CNS depressants (medicines that cause drowsiness). Some examples of CNS depressants are antihistamines or medicine for hay fever, other allergies, or colds; sedatives, tranquilizers, or sleeping medicine; prescription pain medicine or narcotics; barbiturates; medicine for seizures; muscle relaxants; or anesthetics, including some dental anesthetics. Check with your doctor before taking any of the above while you are using this medicine.

This medicine may cause some people to become dizzy, lightheaded, drowsy, or less alert than they are normally. Make sure you know how you react to this medicine before you drive, use machines, or do anything else that could be dangerous if you are dizzy or are not alert.

STORE THIS MEDICINE at room temperature in a tightly-closed container, away from heat and light.
This medicine is a gastrointestinal stimulant used to treat gastroesophageal reflux and erosions/ulcers of the esophagus. It is also used to treat nausea, vomiting, heartburn, prolonged fullness after meals, and loss of appetite in patients with diabetes (diabetic gastroparesis). It may also be used to treat other conditions as determined by your doctor
IF OVERDOSE IS SUSPECTED, contact your local poison control center or emergency room immediately. Symptoms of overdose may include drowsiness; confusion; agitation; muscle restlessness; and unusual movement of eyes, face, or limbs
If your symptoms do not improve or if they become worse, check with your doctor. DO NOT SHARE THIS MEDICINE with others for whom it was not prescribed. DO NOT USE THIS MEDICINE for other health conditions. KEEP THIS MEDICINE out of the reach of children. IF USING THIS MEDICINE FOR AN EXTENDED PERIOD OF TIME, obtain refills before your supply runs out
SIDE EFFECTS, that may occur while taking this medicine include drowsiness, weariness, dizziness, restlessness, jitteriness, anxiety, agitation, confusion, headache, trouble sleeping, or diarrhea. If they continue or are bothersome, check with your doctor. CONTACT YOUR DOCTOR IMMEDIATELY if you experience unusual or uncontrollable movements of arms, legs, face, eyes, tongue, mouth, neck, or jaw; unusual or unexplained vision changes; muscle stiffness; fever; sweating; mood changes including depression; or thoughts of hurting yourself. AN ALLERGIC REACTION to this medicine is unlikely, but seek immediate medical attention if it occurs. Symptoms of an allergic reaction include rash, itching, swelling, severe dizziness, or trouble breathing. If you notice other effects not listed above, contact your doctor, nurse, or pharmacist
If you miss a dose of this medicine, take it as soon as possible. However, if it is almost time for your next dose, skip the missed dose and go back to your regular dosing schedule. Do not double doses.
Quantity
30, 60, 90 pills
Related Categories:
General Health
Related Medications:
Aciphex