Synthroid (levothyroxine) can be prescribed for patients diagnosed with hypothyroidism. This condition is characterized by the inability of the thyroid gland to produce thyroid hormone our body needs to function properly. Hypothyroidism can lead to hair loss, cold sensitivity, weight gain and lack of energy. This drug can be prescribed for a number of other conditions – make sure you talk about them with your doctor.
You will be prescribed Synthroid tablets for oral administration if you have the symptoms this drug can treat. The tablet is supposed to be taken on an empty stomach about 30 minutes before having breakfast. Take the tablet with a full glass of water to avoid gasping and choking as a result of a table stuck in your throat. Before your symptoms improve some time may pass – up to a couple of weeks. Keep taking this drug as prescribed and do not discontinue the treatment until told so by your doctor, even if you feel much better, Synthroid is a treatment not a cure, so you will feel the benefits only if you take it as recommended. If you stop taking Synthroid without your doctor's recommendations, you may lose all the progress you achieved and your symptoms will come back. Synthroid can be taken for a long time, this is why knowing all possible drug and food interactions is very important
Your personal medical history, as well as your family medical history can be very important in determining the dose you are going to be prescribed. Make sure you let your health care provider know if you have ever been diagnosed with any of the following health conditions: diabetes, hepatitis, kidney disease, underactive adrenal or pituitary gland, high blood pressure, chest pain, atherosclerosis, arrhythmias, or a heart attack. There are some other health conditions that may affect your treatment, and you need to make sure your doctor is aware of them as well. Some of the conditions mentioned may prevent you from safely taking Synthroid, and your dose may need to be adjusted to rule out serious side effects.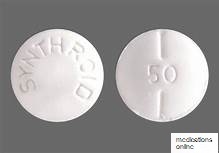 Medications Synthroid can interfere with
Synthroid is not supposed to be combined with any other drugs unless told so by your health care provider. Combining Synthroid with other medications may cause drug interference which may lead to lower efficiency of this medication. It's a good idea to make a list of all the drugs you are taking at the moment for your doctor to know which dose to prescribed for you to take Synthroid safely and benefit from the treatment. The following ones are especially important to report: anticoagulants, arthritis medicine, beta-blockers, amphetamines, antidepressants, anti-anxiety agents, cancer chemotherapy agents, diabetes medications, steroids, theophylline, vitamins, oral contraceptives, phenytoin, and estrogens.
Is an overdose of Synthroid possible?
Just like with any other medications, in case of Synthroid overdose you need to report it as soon as possible to your local emergency center. An overdose of Synthroid is not expected to cause any life-threatening symptoms, but some o them can be unpleasant and get pretty serious if they are not treated properly. Never take more of Synthroid than recommended, as this will lead to an overdose and is not going to result in higher efficiency of your treatment.
This drug is not expected to do harm to an unborn baby, and the risk for the breastfeeding baby to be affected is minimal. However, every woman that is pregnant or breastfeeding is supposed to talk to her health care provider before starting to take this medication to make sure the benefits definitely outweigh any potential risks. If you think you may have become pregnant while taking Synthroid, make sure you call your healthcare provider and ask him about your further actions. Do not start breastfeeding before your doctor says it's okay. You may be recommended to abstain from breastfeeding while you are taking Synthroid because of the health risks you're your baby associated with it.
Side effects you need to be aware of can include weight loss, tremor, headache, nausea, vomiting, diarrhea, stomach cramps, nervousness, irritability, and insomnia. These side effects are mild and are unlikely to last for too long and affect the success of your treatment. In case your mild side effects do not go away and become more bothersome – report them to yr health care provider. More serious side effects are supposed to be reported to your doctor as soon as you notice them, without waiting for anything. The following ones are considered to be serious enough for that: chest pain and rapid or irregular heartbeat. In some cases people get different mild and serious side effects –so you need to watch for any signs that your body is not reacting well to the treatment.
Dosages
25, 50, 75, 100, 125, 150, 200 mg
Quantity
100, 300, 600 pills
Related Categories:
General Health
Related Medications:
Medrol